Rug Renew Rug Repair Services
Rug Renew is dedicated to providing our customers with the most comprehensive and safe area rug cleaning, repair, and protection services possible.
Hand Repairs
Rug Renew provides hand repair services to keep your antique Oriental, contemporary, designer, and custom-made area rugs in good health and looking their best, even when daily use, pets, or over-enthusiastic vacuum cleaning causes damage. Almost all of the repairs are done right here on location. In some rare instances, your rug may qualify for reweaving services overseas by our weaving expert in Turkey.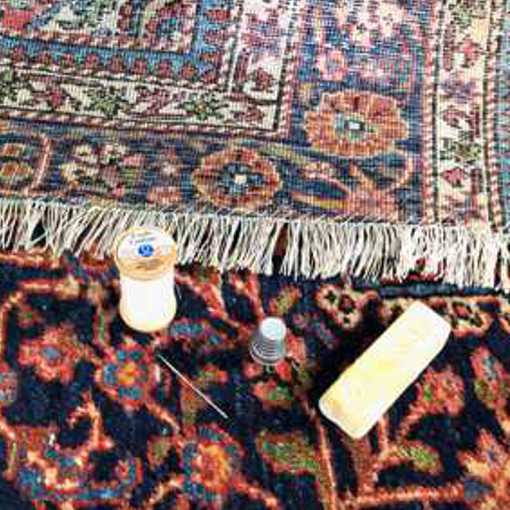 Frayed corners
Loose side cords
Missing side cords
Pet chewed areas
Pulls and sprouts
Box-cutter damage
Small holes
Plant rot
Worn lines
Vacuum damage
Fringe Repairs
Typically, it's the vacuum or a pet that does the worst damage to your fringes, but because they lay out flat across the floor, the act of simply walking across them can cause damage. Even more so in a high-traffic area. It's important to keep the fringes intact before they unravel into the pattern of the rug to protect any value the textile might have.
If your fringes have become damaged, we will gladly talk to you about a repair that will help restore some of their beauty while securing the ends of your rug!
Missing tassels
Abrasion
Breakage
Bleach rot
Unraveling
Extreme wear
Dye & Color Correction
Don't throw away a favorite rug just because the dyes have bled! Chances are that our color correction specialist can save the area rug that you thought was ruined – and for less money that you might think. Improvement over perfection is our goal with this kind of service.
Water or flood damage
Pet urine stains
Harsh spot cleaning
Aggressive carpet cleaners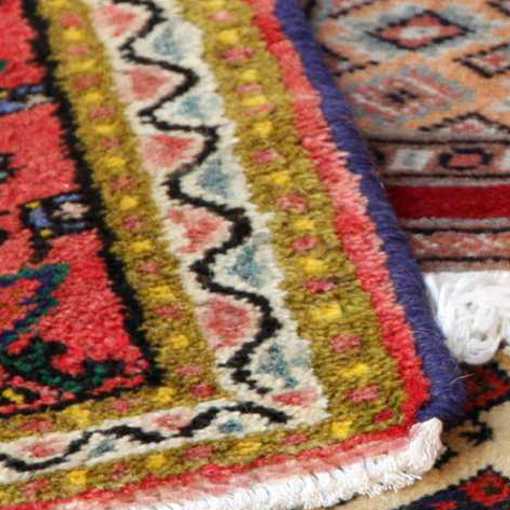 Persian Rug Fringe Repair
Expert Hand Repairs For Your Heirloom Rugs
In case your rug fringes have suffered damage, we would be happy to discuss a repair option with you that can both enhance their appearance and secure the ends of the rug.
Want to Learn More? Check Out Our Frequently Asked Questions