Rug Renew Rug Cleaning Services
Rug Renew is dedicated to providing our customers with the most comprehensive and safe area rug cleaning, repair, and protection services possible.
Pre-Inspection
Each rug that come in for care receives a thorough pre-inspection. Above and beyond your individual cleaning concerns, we check for colorfastness, spots, pet urine stains, odors, moth activity, wear-and-tear damage, soil level, and overall condition. All potential cleaning and repair options will be discussed with you prior to beginning any services.
Dusting & Dry Soil Removal
Rug Renew uses a state-of-the-art compressed air tool as well as harmonic vibration to break up and remove the gritty dirt that gets impacted at the base of the fibers of your area rugs.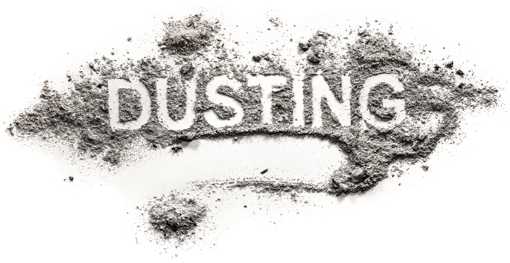 This is possibly the most important pre-cleaning step we can take to ensure the best possible result during the wash process. If your rug is too fragile for conventional dry soil removal methods, we will alter our dusting approach to fit the individual needs of your rug.
Area Rug Cleaning
We don't co-mingle dirty rugs on the wash floor at Rug Renew, and we do not use giant tubs for washing. Each rug is washed one at a time, and our wash floor is specially designed to evacuate wastewater as we work. This ensures that any risk for cross-contamination with wastewater from someone else's dirty rugs is eliminated.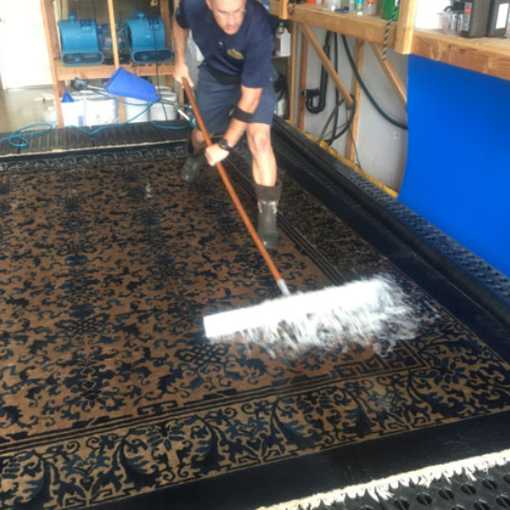 We only use clean, cold water, and cleaning solutions that are Woolsafe approved for use on area rugs and specialty fibers. If your rug is too fragile for conventional washing methods, we will alter our cleaning approach to fit the individual needs of your area rug.
Rinsing & Drying
To be certain we return your rugs residue-free, we rinse until the water runs clear. Rug Renew's water evacuation system – the only one of its kind in all of California – consists of custom designed high-tech water extraction tools that allow for superior drying speed.
This virtually eliminates the risk of the most common slow-drying issues like discoloration, shrinkage, and dye bleed.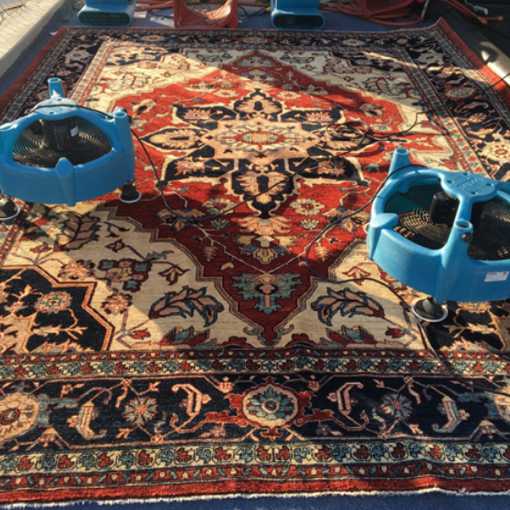 Most rugs are hung up to dry after cleaning, but more delicate pieces may need to dry flat. Our temperature and humidity controlled drying space can accommodate either method.
Pet Urine Odor Removal
Pet urine deposits happen on the surface fibers, seep through the foundation yarns, and pool on the back of the rug at the floor. Spot cleaning them at the surface barely touches the worst of it. To effectively remove pet stain odors, we need to treat them with solutions designed to eliminate odor-causing bacteria and flush it all the way through the fibers of your rug.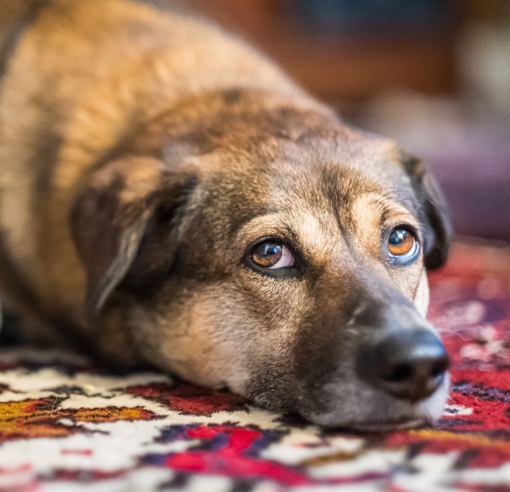 In fact, we guarantee 100% pet odor removal when your rugs are treated with our full-immersion Pet Sanitizing Rug Wash. Our odor removal process also works well for musty and sour odors, nicotine, smoke, and cooking odors.
Specialty Fiber Care
Our years of advanced rug care training have allowed us to specialize in cleaning and repairing even the most difficult and delicate fiber types, without fear of texture distortion or fiber discoloration.
Some of the fibers we specialize in cleaning are: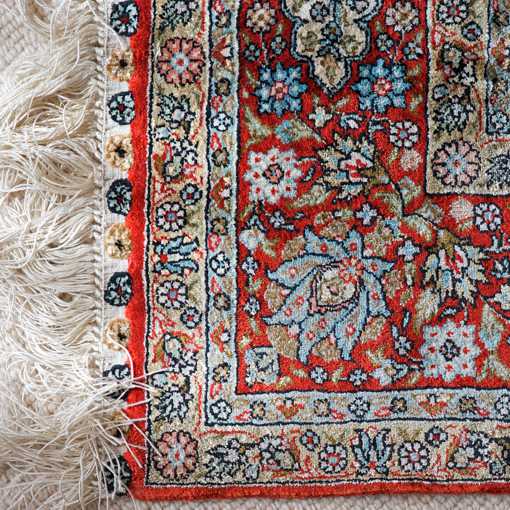 Tencel
Bamboo silk
Art-silk
Metallic threads
See The Difference For Yourself
Hover over the image below for before and after images to see the difference we were able to make for a client while washing this Persian Abadeh rug.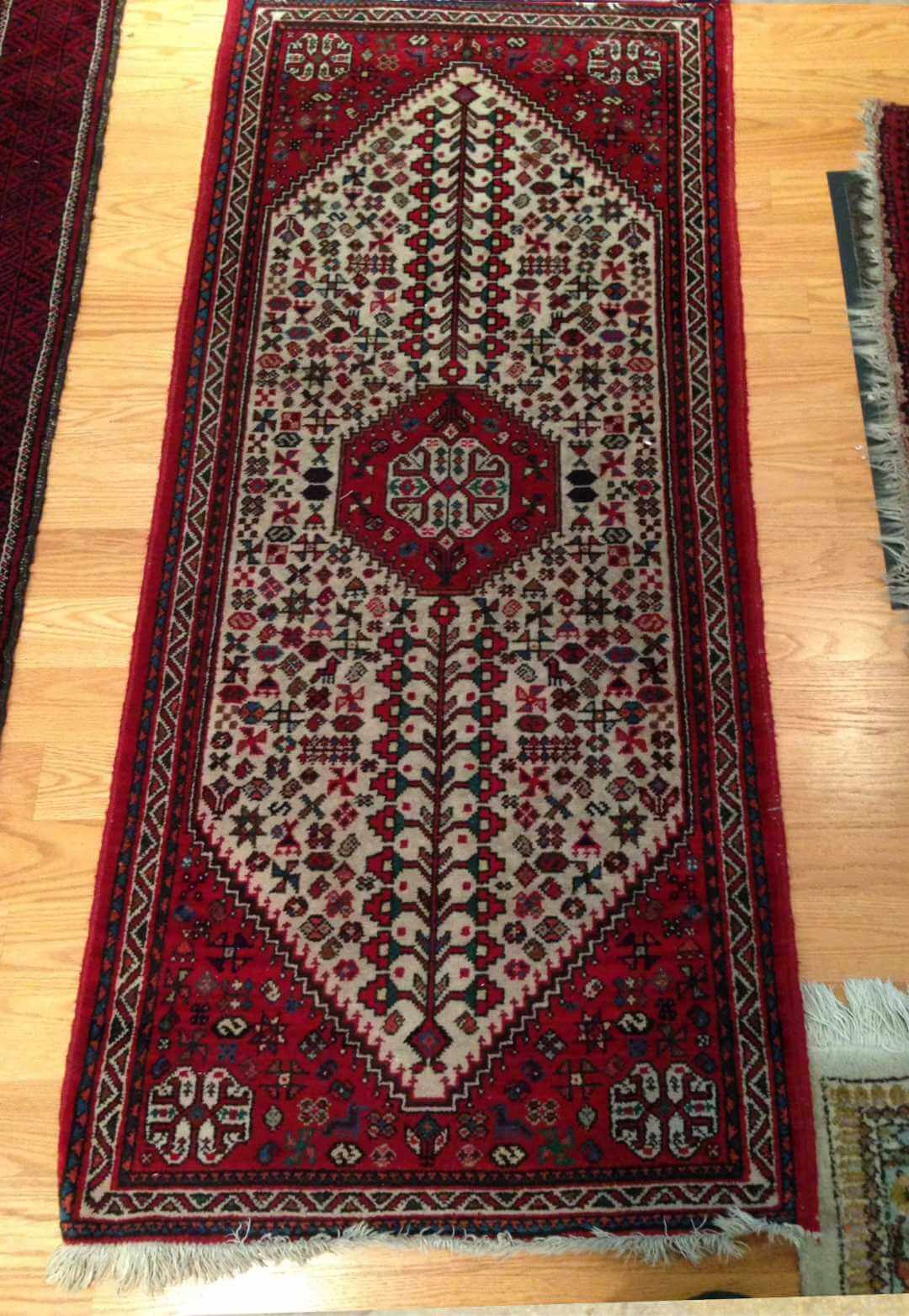 Hover for before and after images
Persian Abadeh Rug - Learn More
A hand-woven rug style from the city of Abadeh in southwest Iran is known as a Persian Abadeh rug.
These rugs are distinguished by their elaborate geometric patterns, vivid colors, and common core medallion surrounded by numerous borders. Because they are finely woven and composed of premium wool, Abadeh rugs are strong and long-lasting. They are perfect for high-traffic locations like living rooms and corridors because of  their strong construction.
At Rug Renew, we recognize how important it is to maintain the appeal and durability of your Abadeh rug. To make sure that it continues to be in top shape for many years to come, we provide highly-specialized cleaning and repair services.
Use the slider to view before and after images of this beautiful silk rug.
Want to Learn More? Check Out Our Frequently Asked Questions