Area Rug Cleaning Experts in San Diego, CA 
Oriental. Persian. Tribal. Designer Rugs And More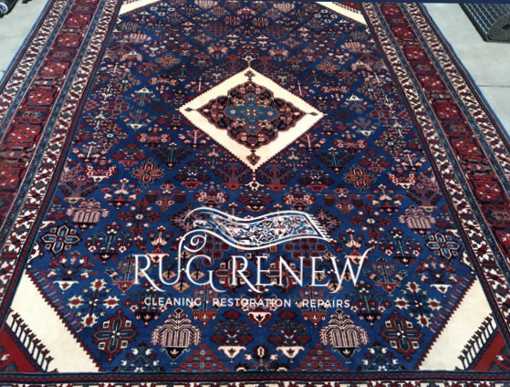 Rug Renew is a division of Above & Beyond Carpet Care which has been in business since 1992, and has top of the line hand washing rug cleaning equipment. We have extensive knowledge, and expertise to handle all of your rug cleaning needs. Dave Nichols, our certified IICRC Master Textile Cleaner runs the rug cleaning department. We have been trained by our industry's best across the country.
We are proud to say that when you have your rugs cleaned by our rug cleaning operation at Rug Renew, each rug is hand washed with the finest tools and equipment available. The results are stunning. We recommend your rugs be cleaned properly at our warehouse where we can use our state of the art dry soil dusting machinery and full immersion wash process.
Rug Cleaning
Pre-Inspection & Dye Testing
Rug Washing
Odor Control
Rug Protection
Stain Protection
Rug Padding
Moth Deterrent
Rug & Fringe Repair
Rug Repairs
Fringe Repairs
Fringe Replacement
Special Care
Specialty Fibers
Pick-up & Delivery
Other Services
Full immersion area rug washing facility in Spring Valley, Ca
Our process starts with a thorough pre-inspection for any weaving flaws, pre-existing damage and dye stability testing. After our wash is complete your rugs will be carefully and quickly dried in a controlled drying room. The results are amazing! You will love the soft and clean feel of your rugs guaranteed. The thorough wash and rug cleansing that we do at our shop restores the colors of the rug making them look like new again with vibrant color.
And don't forget that we will also be restoring the fringe. We just love watching our clients smile when their rugs are returned with bright colors again and clean fringe!
All hand washing of fine oriental and persian rugs are done at our warehouse. We welcome your inquires and we would be happy to set up an appointment for you to come out and see our warehouse and operations. Whether you have a precious hand woven silk, Navajo, Persian, Oriental wool rug, or a less expensive machine made area rug you can be assured you are hiring the very best for hand washing your fine rugs.
We recommend cleaning your oriental rugs every 1-3 years based on usage to preserve their long lasting beauty.